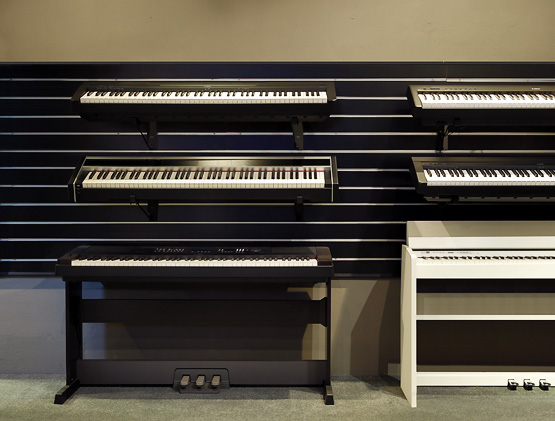 Play By Ear Music School (Singapore) is the authorised local dealer for – Yamaha, Casio, Roland, Kawai, Viscount, BeyerDynamic, Fischer Audio, Hal Leonard. All products are brand new from their respective distributors and come with 1 year standard warranty in Singapore. Come to our music showroom and compare the newest variety of models from the various brands at various price points to play with. Try out the authentic feel of the hammer weighted keys and treat your ears to a variety of piano tones and timbres. Our Play By Ear Music School pledge and promise – that our prices will match or be lower than anywhere else in Singapore. We also give additional special discounts to Play By Ear Music School students for selected models. Free gifts are dependant on availability. 
Digital Piano Store Showroom and Store
We are located at: 245B Victoria Street (3rd floor), Bugis Village, Singapore 188032
Authorised local (Singapore) dealer brands
Yamaha started as a reed organ manufacturer in 1887, and today they are one of the leading manufacturers in music instruments, manufacturing just about every possible musical instrument from guitars, drum sets, brass, woodwind, digital pianos, grand pianos, music keyboards, pro audio and even motorbikes.
Click here ► for Yamaha digital pianos
CASIO is the leading brand in Japan, specializing in home Digital portable Pianos and keyboards. Their latest 2015 Privia and Celviano models have improved steadily over the past 5 years and now feature impressive matte finishing weighted-keys and amazingly real sounding piano samples. 
Click here ► for Casio digital pianos
Founded by Koichi Kawai in 1927, today the company's passion for innovation also extends to electronics where Kawai created the industry's first digital piano with authentic wooden keys, the first action designs that re-create the natural movement and motion of an acoustic piano action.
Click here ► for Kawai digital pianos
The company has produced over 300 synthesizers, keyboards and digital pianos since 1972. It was founded by Ikutaro Kakehashi in Osaka. Today, Roland is one of the top names in professional music equipment.
Click here ► for Roland digital pianos
Founded in 1969, Viscount's manufacturing and R&D activity is based in Italy. The company has been continuously owned by the Galanti family since its inception.
Click here ► for Viscount digital pianos
This is the biggest publisher for music books in the world, est. since the 1950s'. We are very pleased to partner with them and we have ready stock located at our Hal Leonard display beside our Digital Piano showroom. Check out some of our recommended titles.
Click here ► for more information
Our official brand for Digital Piano Headphones – Beyerdynamic GmbH & Co. KG – a renowned German audio equipment company manufacturing top of the class headphones and other audio systems. Beyerdynamic remains a family owned company since it was founded in 1924.